We … are the two "fifties" from Pforzheim (Germany) who ventured a new beginning in the wonderful surroundings of Masuria some time ago.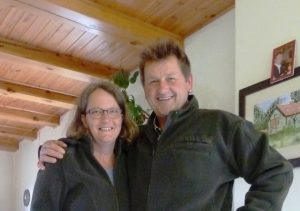 Waldemar is born in Silesia and stayed over 30 years of his life in Germany. For about 20 years he was very successful as independent car-mechanic's master with his own garage in Pforzheim. Today he follows his hobbys – he is hunter and pigeon breeder. "As a passionate pigeon breeder and pigeon player, I own famous pigeons with international titles. With pleasure I will show you everything about my hobby and help you – if interested – with the construction of your own breeding.
Elke coming from Essen/Germany moved to Pforzheim – following love. Being a qualified industrial chewing woman and diploma engineer in communications engineering she had also found a very satisfactory activity field at this time.
We both have given up our professional activities in Germany – with a laughing and a crying eye – to devote ourselves completely to our life on our ranch in Masuria. We don't do things by halves! We love the nature, here we have dogs, horses, cats, homing pigeons, rabbits and all other animals you usually find on a "farm". The cows for the fresh milk are out to grass directly behind our garden fence. You can enjoy home-grown salad and vegetables from our own garden. There is also home-baked bread, home-made marmelade and a lot more … Moreover, we would like to spoil YOU with pleasure: with overnight stay, breakfast, American plan … with a support programme just for you like campfire, music, celebration, walking and and and … The bicycles, the kayaks which can be used on the idyllic and cleanest river of Poland the OMULEW, a small bar only for guests are waiting for you. With pleasure we also help you with the planning and organisation of your excursions and inspections. Indeed – everything what contributes to a successful stay and a super-vacation with us. The airport in Szymany called Olsztyn-Mazury (about 10 km from our Rancho) was reopened in 2016.
We speak german, polish and english. Do you have questions, wishes or suggestions? Call us or write an e-Mail. Regards Waldemar & Elke