"….and at the end of the road there is a house at the lake…" – maybe you remember the German song. It inspired us for the naming of our most recent property, although it is not directly located next to a lake but to the river Omulew. Set in an idyllic environment surrounded by forest, three kilometres away from the village Wesolowo at the end of a forest access road and in the direct neighbourhood of our forester's house.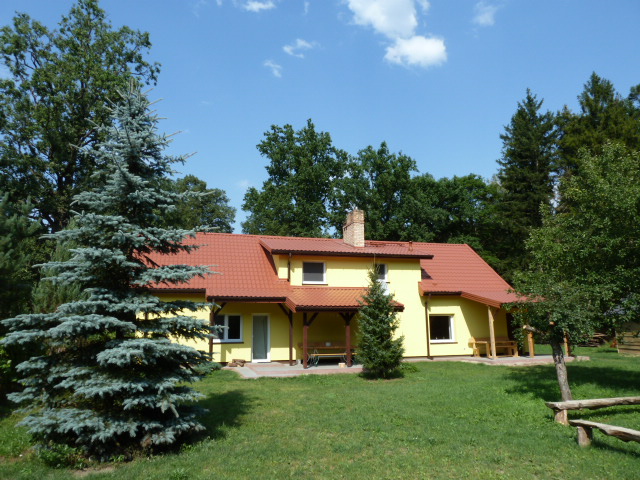 In spring 2014, the house was completely restored. Two upscale vacation apartments came into being. One apartment for four, the other one for six people. Both parts of the house have in parterre an open living area with fitted kitchen, chimney, floor heating and bath room with shower on floor level.
On the top floor, the bedrooms and another bath room each are situated – in the bigger flat, there is to find a spacious corner bathtub. The smaller apartment has two bedrooms, the bigger apartment has three bedrooms for two persons each. In between both sides of the house there is a connecting door, which can be opened or closed as required. According to the number of people, both apartments can be rented or used separately or together. Both sides of the house have an own covered terrace. In addition, the enclosed property offers a fireplace for cosy evenings with sausages, French bread, guitar music…
Right behind the property fence flows the river Omulew, which invites to having a bath, fishing, and taking a row to unspoiled nature. A landing stage and covered seating on a bridge over the river as well as a beach bar which can be self-operated by the tenant offer a place to stay and relax. A grill, kayaks and a rowing boat are present. For our guests, usage of these is free of charge. In addition, there are bicycles which can be used available. A sauna is in in the garden shed. The river is perfect for a cooling afterwards.
The next shopping possibility – a corner shop – is in the village Wesolowo. More shops, restaurants, a post office, a pharmacy, a doctor, etc. can be found in the town Wielbark – approx. 7 km from Weolowo – or rather in Jedwabne – approx. 14 km from Wesolowo.
The prices for a stay in our "House At The Lake"comply with the season and duration of stay. The rent for the smaller apartment costs from 60 € per day, the rent for the bigger flat costs from 80 € per day. If you cannot carry out the final cleaning, 40 € are added each. The costs for the bedlinen are included. Please do not hesitate to contact us – we will gladly draw up a tailor-made offer. Special conditions are possible. The house can be rented all the year round.